What are our customers saying about our work?
From time to time our customers leave us reviews from the work we have done. Below are a few of our most recent ones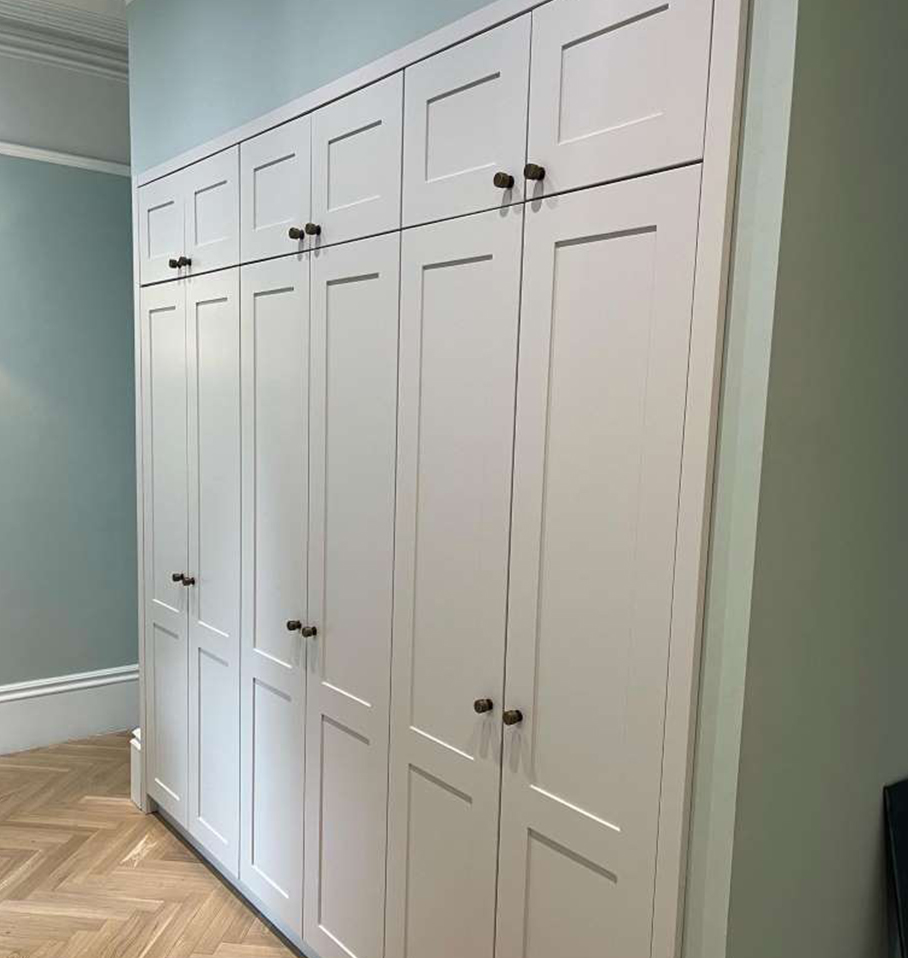 ""Fitted additional shelves in 2 wardrobes and airing cupboard. Whole approach to the job was very professional by Chris. Work was excellent quality and very tidy. I would recommend him and use him again.""

Says Rob Davies | 30th March 2018
""Really good workmanship for several jobs completed. Professional, punctual and all rubbish was removed and the area cleaned. Would recommend without hesitation and have already booked another carpentry job.""

Says Elaine Smith | 17th November 2017
""I have recommended Chris to various family and friends as his work is always second to none. I would highly recommend him to anyone that needs an experienced carpenter. Chris is always on time, clean, polite and professional.""

Says Anil Balgobin | 4th September 2017
""Very friendy worker and has lots of knowledge of industry. Gave alternatives if something wouldn't work and managed our expectations from the start. I was able to be part of the design process and get an accurate match to what I wanted done. The work was completed quickly and no mess was left behind!! I had CD Carpentry and would reccomend to anyone looking for someone to build or design fitted and free standing furniture and flooring !!""

Says Beth Harrison | 1st December 2017
""Chris from CD Carpentry is a lovely gentleman with a work ethic exceeding all initial expectations. My Kitchen was finished to a highly exceptional standard- not only does this man love what he does, but he certainly knows all about the tricks of the trade. I am very impressed with his attitude and knowledge towards the job- highly recommended!""

Says Alex Harris | 20th November 2017
""Chris has undertaken several jobs for us, including building a fitted wardrobe with shelving in our spare bedroom, building a cupboard for our hallway, and fitting new doors for us. Each job has been carried out with care and expertise, and we are delighted with the results. I can thoroughly recommend Chris for anyone needing this type of work.""

Says Alan Barker | 30th June 2017
"Chris built two beautiful alcove units in our living room. we are very happy with the work, and he will be our first point of contact when we need work done again! His craftsmanship is so good, that the units he built look like they've always been there! thanks again Chris & Dan!"

Jonathan Darby 29th January 2019
"Chris was fantastic, prompt, efficient and thorough. He removed our old damp floor and sub flooring and replaced our whole downstairs with a beautiful new floor. Very happy with the work done!"

Elizabeth Blackburn 23rd January 2019
"Chris and his team were fantastic. They pulled out my old staircase and replaced it with a new one. Big job and they did everything from, demolition, installing new staircase, all carpentry, painting, wall papering, everything. 2 week job. On time and on budget. We are very happy and will be using him again. if you need any work doing, call Chris."

Brian Woodcock 3rd December 2018
"Chris is very knowledgeable and provides honest feedback on what is and what isn't possible. Straightforward to deal with and results as expected."

Nico Mohrholz 30th October 2018
"We had all the skirting and doors replaced in a large 4 bed house. Chris and his workers were extremely polite and very skilled. The place was left tidy every night and the workmanship was spot on. He turned up when he said he was coming and always kept me updated on progress. Great to see someone have a lot of pride in their work and the skills to match. Very pleased with the results."

Faisal Nasir 26th October 2018
"Chris built a high bed with storage and wardrobe underneath. The quality of workmanship was very good. He used good quality materials and was pleasant to deal with."

Isabelle Rabier 1st October 2018
"Chris recently carried out a number of carpentary jobs at our home, including making and fitting a new back gate. The work was completed quite quickly and we were very happy with the result."

David Black 25th July 2018
"I have used Chris twice now and both times I was extremely pleased. He built a wardrobe in a small bedroom which was perfect and an under stair cupboard giving us so much storage."

Pip Lewis 18th June 2018
""
So if you're looking for a carpentry & joinery company in Surrey with many years experience in the carpentry & joinery trade then look no further than CD Carpentry & Joinery. Whether it's a query or a quote, pick up the phone and call 07808836222 today or visit our contact page or send us an email.